Are you considering a metal building on your property for extra storage space, a barn, or a car port? One of the advantages you're likely to discover about metal buildings is that there are several design choices to choose from that can be customized to suit your specific needs. JAG Metals LLC in Weatherford knows that you have a choice when it comes to engineered metal buildings and components. The technicians at our family-owned company have more than 40 years of combined experience in the industry and we'd love to be your first call when you're pricing out materials and checking out your options! Call us today to learn more, and in the meantime, check out some details on a few kinds of metal buildings to see what might work best for you.
Tapered Beam Buildings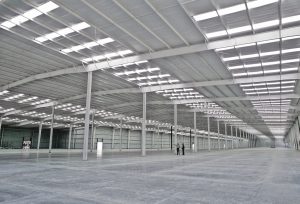 A popular choice for metal building homes, this type of metal building is designed to provide occupants with the most available flooring space possible. In this type of structure, a welded, tapered beam extends across the length of the building and there are no interior columns or side beams. Because of its construction without beams on this inside of the walls, this design allows for interior finishes, like drywall and cabinetry, and interior walls to be installed with minimal effort and no obstacles to work around.
Rigid Frame Structures
While still a good choice for homes because of their strength, rigid frame structures are also a common option for those who require the most possible clearance at the center of the building, such as bulk storage warehouse owners. Also referred to as continuous frame, this type of metal structure is extremely customizable. Owners can place windows, doors, and awnings anywhere on the exterior of the structure. The exteriors are also completely customizable and can be outfitted with standard construction materials such as wood, stone, or brick siding.
Column and Beam Buildings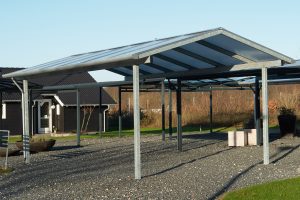 This type of metal building combines the strength and durability of a steel beam with the support of metal columns or posts. Depending on how wide the structure is, there may be more columns needed for adequate support. This type of construction allows for more expansive buildings, however, the open space is interrupted by the posts along the center and the sides of the building. This type of building is less likely to be used for residential use and more likely to be used for commercial purposes.
Lean To Structures
This type of metal building is commonly paired with rigid frame or column and beam buildings. As their name implies, they almost appear to lean into the side of its adjoining building. This type of construction is great to create additional space for commercial buildings. When paired with metal building homes, they can make for affordable, durable, and sustainable carports and garages. Additionally, there is limited foundation work necessary to add a lean to onto an existing metal building.
Whether you're looking to purchase a steel building or components for residential or commercial use, you're sure to find an application that's just right for your needs when you choose to partner with JAG Metals, LLC for your materials. From structure design to components and color, our team will gladly help you with every step of the process.
Contact us today at 817-458-4223 to learn more! We can't wait to hear from you!